Led by Nora Atkinson and Sara Snyder at the Smithsonian American Art Museum, INSIGHT joined forces with Greg Downing of Hyperacuity, Raj Puran at Intel Corporation, and Jason Gholston at Sansar Studios to create a VR experience as part of the Renwick Gallery's 2018 exhibition No Spectators: the Art of Burning Man.
The team used laser scanning, photo modeling and experimental 3D capture techniques to document works during installation of No Spectators: The Art of Burning Man as well as numerous outdoor sculptures sited throughout Washington D.C. as No Spectators: Beyond the Renwick.
David Best's Temple was central to the SAAM exhibition, designed and built to fill the Renwick's Grand Salon.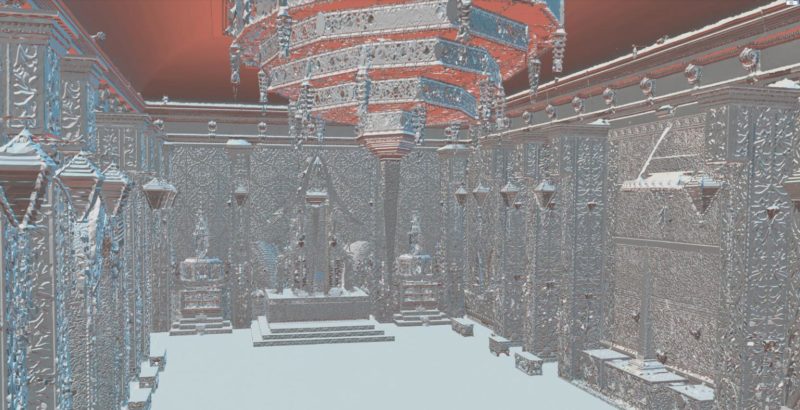 Created as sacred spaces of reflection and prayer, since 2000 Best has created many of these intricate wooden structures for Burning Man. During the week of Burning Man, the Temples are adorned by participants with memorials and inscriptions. At the Renwick this tradition continued, and found a special focus after Burning Man founder David Harvey's death on April 28 02018.
Kevin Cain, a student of David Best at UC Berkeley three decades before No Spectators, led the INSIGHT work to mirror Best's Temple in VR. Kevin worked with Best's oversight to build a 3D model of the temple, drawing on both laser scan data and the vector drawings used to mill the physical cut profiles that compose the installation.
Detail view of the 3D model from David Best's Temple; this model is formed using the same curve information used to mill wood profiles for the physical installation